peaceful_sands posting in

bitesizedcleaning
Welcome to Wednesday and time to tackle the thing that has been lurking and needs to be done. What will it be? What is that PITA of a thing? Care to share, we're here for you and will be virtually behind you with all the encouragement you need.

In need of a little challenge to get you to start something? My challenge to you today is to check on the fridge. Depending on your energy levels and time allowance, select what's most appropriate for you. Remember if you do want to break it up or end up having more energy/time that you initially expected, you can always come back and do another step later today (or tomorrow).

Step 1 - Open the fridge and do a quick check for anything out of date and needing to go.
Step 2 - Spend a bit more time and do a thorough check to the back of shelves/bottom of drawers etc and make sure that you've checked everything in there - take mental note of anything that needs using quickly.
Step 3 - Starting with the top shelf, take everything out, lift out the shelf and clean it, dry it, replace it and put back in a more organised fashion - you may at this point realise that some things would ideally be in a different fridge location, whether it can be moved may depend upon there being space in its ideal location.
Step 4 - If you've still got energy/time, repeat with next shelf
Repeat Step 3 if you wish, until all shelves/drawers and the little door shelves have been checked and cleaned. If you can, as you go, wipe down the inside top and walls of the fridge as well with a cloth and some sort of light cleaner to get rid of any lurking invisible unwanted life forms. If you are tackling just a shelf at a time, don't get the top/walls too wet so that no cleaner runs down onto food stored lower in the fridge.

Remember that there is no obligation to do this challenge and also even if you do start it, it doesn't have to be done all in one go - a shelf a day for the week would be just as wonderful if you wanted to tackle it that way.

So with that I shall say goodbye (I'm not back until fairly late tonight, so please do cheer each other along), good luck with whatever you decide to tackle and a reminder that the optional challenge is OPTIONAL and also does not have to be completed as the WHOLE task - step 1 is a success, as is any other step. Look after yourselves, remember to think of your rewards for completing any personal pain in the tuckus tasks and let us know how you get along.


brainwane posting in

wiscon
If you loved
17776
(
MetaFilter discussion in case you want to know what the deal is
), I'd love to talk about it with you at WisCon next year. I'd appreciate help coming up with programming ideas and am casting about without much success. Some stuff I've thought of:
* Anyone know enough about Google Earth to demo how you can make videos that look like that?
* Feminism in scifi about sports
* The psychology of immortality
Comments? Thoughts?

bcholmes
This week, the Shuster Award nominations were announced, and for the third year in a row, the Toronto Comics anthology has been nominated for the Gene Day Award for self-published comics. We've lost out the last two years, and I don't really expect this year to go any differently but, as they say, it's an honour to be nominated.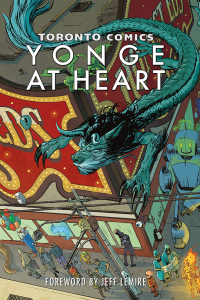 Because of eligibility date requirements, the nomination was for Volume 3, which came out in 2016. But it's 2017 now, and there's a fourth volume. This year, the editors dispensed with the "Volume X" subtitle, and gave the book its own swanky subtitle: Yonge at Heart! This year's book is a bit smaller (in a "number of pages" sense) than previous years, but what it lacks in pages it makes up for with vibrant colour! And, boy howdy, does that colour make for some gorgeous pages.
Mirrored from Under the Beret.


peaceful_sands posting in

bitesizedcleaning
Here we are approaching the middle of the week and it's time to think of something to tackle that's been a pain lurking around and waiting to be done. Something that's maybe been getting lost in the welter of important 'do me now' things. Or maybe it's something that's been niggling at your conscience and making you feel bad because it hasn't been done and has just been sitting there making you feel worse about it.
Can you bite-size it? Make it smaller and easier to achieve? If it really is just too big, can you split it into chunks and tackle at least part of it?
For those in need of a mid week challenge.... Can you find five things that are in the wrong place and move them either to where they need to go or to interim storage if their ultimate destination is currently unavailable or unsuitable? Five things too easy for you - make it ten or fifteen. Or repeat it at a second point through the day to get more done.
On another note, I was reading a blog post this morning about kitchens and kitchen organisation, that I thought might be interesting to others here (with the added benefit of a stonesoup recipe at the bottom of the post). The blog is Stonesoup by Jules - the principle being to create recipes that use fewer ingredients but still taste good - today's recipe if for an avocado and bacon salad. Anywhere the
link is here
and it's to a feed on Dreamwidth rather than elsewhere.
Good luck team, share with us how you're getting along. I'm off to work now so won't be able to respond until I get back this evening, but now that my good thoughts are with you all.


boxofdelights
( garden photo )
Every time I go out to move a hose, I see dozens of things that make me think, gotta take care of that. But right now each of those things makes me think, what is that going to look like in two more weeks? I gotta take care of that now!


alexseanchai posting in

bitesizedcleaning
The bathtub and shower is one of those areas that I Don't Want To Deal With. Ever.

Right now, I have just spent 10min scrubbing at said area with Lysol all-purpose cleaner and a sponge. This removed a lot of the brown grime from the tiles and the sides of the tub, but there's still some grime visibly there, even if we don't count the grout that's approximately mahogany and should be approximately snow. And I have positively murdered my right hand in the process. (I need that hand to type with! I need the tendonitis / carpal tunnel / wtfever hand pain shit not to be flaring!)

Can people recommend good—ideally low-dollars, low-spoons, low-time, and especially easy-on-the-hands—ways to (1) deep-clean (2) keep clean the bath/shower area?

Thanks.